Resolve your roof-related issues quickly and efficiently and extend the life of your roofing systems with roof restoration and repairs services from Davidoff Roofing. You rely on your roof to protect your home or business against the elements. Unfortunately, with the regular beating that roofs take from the sun and from the weather, they often need routine maintenance and the occasional fix. That's where Davidoff Roofing, London, Ontario's roof repair specialists, can help. Whether you're in need of residential or commercial roof repair or restoration, we're just a call away from resolving it.
Roof Repair and Restoration Services For Your Business & Home
We're proud to offer repair services and roof restoration to London businesses and homeowners. We take great pride in doing the job right & in a professional manner. Whether you need a roof leak repair, historic roof restoration, or anything in between – Davidoff Roofing has you covered.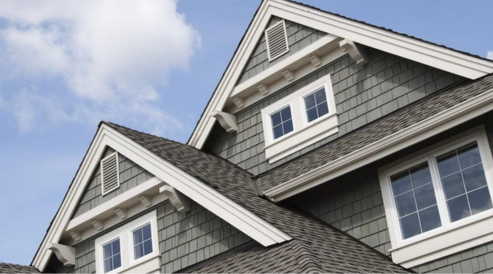 Residential Roof Repair & Restoration
Proper maintenance isn't just critical to the overall integrity of your roof, but the entirety of your property as well. At Davidoff Roofing, we specialize in all types of residential roof repairs and restoration, from flat roof repairs to historic roof restoration. Whether your home's roof was damaged in a storm or you just want to ensure it is maintained properly, we can help.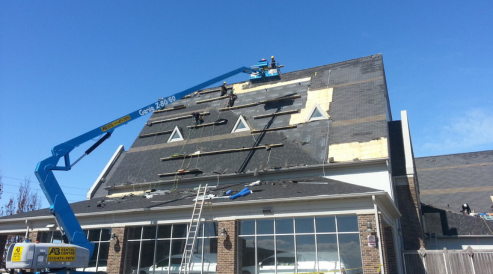 Just as it's important to ensure your home's roof is in good shape, it's also important to maintain the roof of any commercial property. Any type of roof damage or leaking could damage building contents, and it could take a business offline until the issue is resolved, and the property is restored. Our experienced, professional roofers and installers will ensure that your commercial roof was repaired right. Our high standards and attention to quality workmanship wouldn't allow us to work any other way.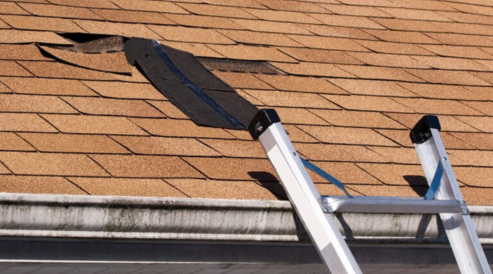 Whether it's caused by severe weather or old age, it's never fun to be on the wrong end of a damaged roof that needs a fast fix. Unfortunately, roof damage & leaks are common in both residential and commercial properties – and they may stem from a variety of factors. When you contact Davidoff for emergency roof repair, we'll quickly find the root of the problem and then make the necessary repairs to fix the issue for good. Emergency roof leak repairs are a big part of what we do, and we'll arrive on-site quickly to ensure any damage is minimal.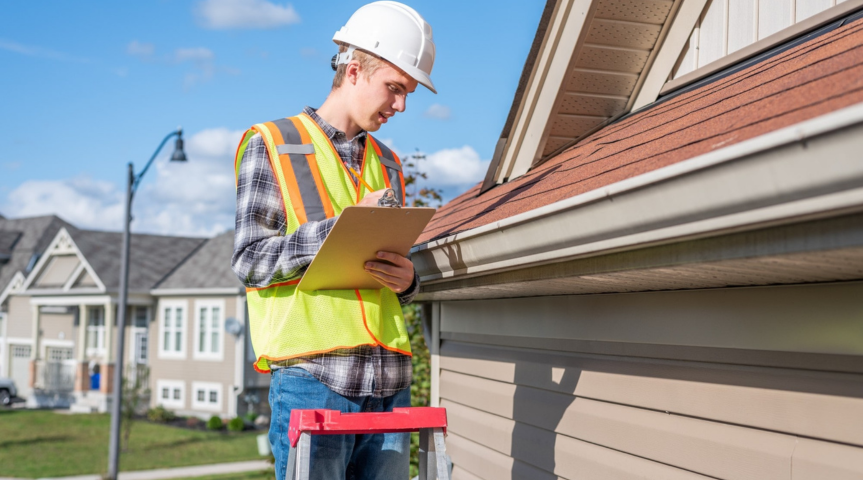 Our certified roof inspectors help you stay one step ahead with roof inspections for both businesses and homeowners. Catch any problems before they become larger and more expensive issues with routine roof maintenance check-ins. Our roof inspectors in London provide an accurate assessment communicating any areas that require repair. You can rest assured that you will come out with an unbiased and honest report of your roof's current condition.
Why Choose Us for Roof Repair and Restoration

Trustworthy
We treat each roof restoration and repair project as if it were our own and pay it the respect it deserves.  

Quality Workmanship
With over 40 years in the industry, our roof repair and restoration contractors provide only the highest quality work.

Flexible Financing
We offer flexible payment options for repairs, restoration, and renovation services to suit our customers' needs in London, Ontario.  

Certified Contractors
Our contractors are certified in every material we use for premium restoration and repair projects.  

Insured
We do everything by the book and are happy to provide proof of insurance for every project.  

Warranty
We offer warranties on workmanship and manufacturing, so you know that your home or business is covered.
What Our Customers Say About Our Roof Repairs and Restoration Services
Highly recommend Davidoff Roofing. From my initial email to the receptionist and repair work with the service department, everyone and everything was excellent!
Very professional and helpful customer service, quick response time, reasonable pricing. Excellent job on roof repair and a perfect clean up at the end! Highly recommend Davidoff Roofing.
Full marks to Davidoff Roofing. The whole process from initial phone call to estimate to replacing our roof and installing a downspout went smoothly. Their knowledge and experience was a great benefit because our roof wasn't a simple tear off and replace. Modifications were required to correct some imperfections in the roof. We would highly recommend Davidoff Roofing.
Professional and High-Quality Roof Restoration and Repair Services
Why replace your entire roof when you can repair and restore it? At Davidoff Roofing, we can give you peace of mind knowing that your property is in professional hands. If you suspect a roof leak or other issue, we can provide a thorough inspection and find the ideal solution to repair and restore your roof. Our restoration roofing services are efficient, and effective, and are completed by a professional, certified team of roofers. For more information on our roofing repair and restoration services, contact Davidoff Roofing today.
Frequently Asked Questions
How do I know my roof needs to be repaired?
Some signs that your roof needs to be repaired include:
Leaks
Cracks or missing tiles
Holes or punctures
Staining on your ceilings or walls
High energy bills
Do you offer a scheduled maintenance program? 
Absolutely. One of the best ways to ensure roof longevity is to make sure it's routinely inspected, and any repairs are carried out accordingly. We're more than happy to work with residential and commercial property owners on a roof maintenance program so that any small issues can be detected and resolved before they become larger ones.
What are the benefits of roof restoration?
When you restore your roof, you can:
Boost your property value
Increase your roof's lifespan
Provide additional protection against pests
Less timely than a complete roof replacement
Better protection during extreme weather
Is roof restoration worth it?
Yes! Restoring your roof can extend the lifespan of your roof for up to 15 years and can also be more environmentally friendly as it reuses parts of your roof instead of replacing it. Routine roof maintenance such as repairs can also ensure that your home is covered by insurance.
Book Your Free Estimate Today and Get Your Project Started