We encourage property owners to think of roofs more as a system of interconnected components rather than just shingles that are placed on the top of a home. And while shingles are certainly important, there are also gutters and eavestroughs, flashing, roof fascia, and roof soffit that you'll need correctly installed and maintained as part of your home's exterior maintenance. Soffit and fascia boards are arguably among the most important of the overall roof's makeup.
Soffit and Fascia Replacement & Maintenance
Soffit boards are typically visible and positioned underneath the roof, while fascia boards are typically more horizontally positioned. Together, they work to improve ventilation into the attic, divert water, and they can even enhance a property's architectural appeal. However, just as it's the case with new roof installation, soffits and fascia must be properly installed, maintained, and – at times – replaced to continue to support the overall health of the roof.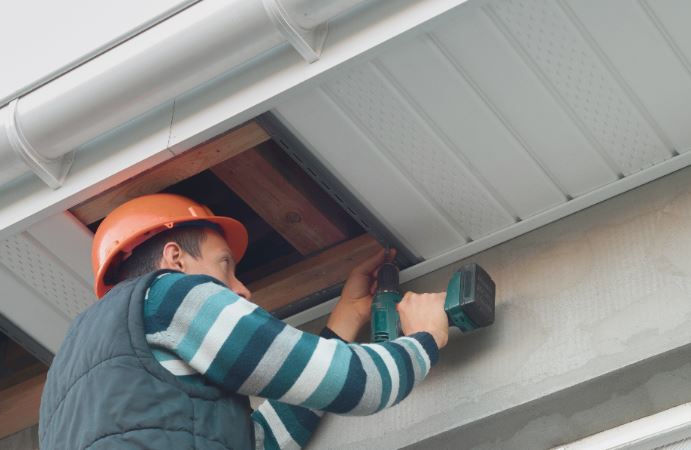 Types of Soffit & Roofing Fascia
At Davidoff Roofing, we carry and install a variety of different types of soffit and fascia to meet the style and design of any property. Here's a closer look at the types we offer:
Steel
Fiber cement
Wood
Vinyl
Plastic composite
For more information on the pros and cons of each of the types listed above and which style would work best with your property, contact us today.
Why Choose Us

Trustworthy
We treat each project as if it were our own and pay it the respect it deserves.

Quality Workmanship
With over 35 years in the industry our contractors provide only the highest quality work.

Flexible Financing
We offer flexible payment options to suit our customers' needs.

Certified Contractors
Our contractors are certified in every material we use for premium installations.

Insured
We do everything by the book and are happy to provide proof of insurance.

Warranty
We offer warranties on workmanship and manufacturing, so you know that your business is covered.
Improve Your Roof System with Expertly Installed Soffits & Fascia
Don't leave fascia and soffit replacement and installation to just any contractor. You can rest assured that it was performed correctly when you work with us at Davidoff Roofing in London, Ontario. With a dedication to quality, professionalism, and exceptional workmanship, we can handle any soffit and fascia project – no matter how big or how small – to keep your roof system strong and your property looking great. Contact us today for more information.
What Our Customers Are Saying
Highly recommend Davidoff Roofing. From my initial email to the receptionist and repair work with the service department, everyone and everything was excellent!
Work was completed in a timely matter and from quote to completion of the roofing project Davidoff was professional and I would highly recommend them in the future.
The team was responsive, professional and tidy throughout the sales and delivery processes. I highly recommend Davidoff Roofing for your roof installation.
Frequently Asked Questions
What are soffit and fascia?
Soffit boards are exposed siding underneath a roof's overhang and Fascia boards are the exposed board you see on your roof's overhang and are typically located in the same location as your home's gutters.
What materials are soffit & fascia made out of?
Soffits & fascia are typically composed of the following materials:
Steel
Fiber cement
Wood
Vinyl
Plastic composite
Why are soffit and fascia important for a home's roof?
Soffit helps with your home's ventilation, facilitating a steady airflow between the roof and the attic. Fascia, on the other hand, helps to support your shingles and is what holds up your gutters.
Book Your Free Estimate Today and Get Your Project Started