One of the fastest-growing commercial roofing options on the market, TPO roofing has earned a positive reputation as it offers a host of benefits. Short for Thermoplastic Polyolefin, TPO roofing is a single-ply roofing membrane designed to meet the specific needs and challenges of commercial roofs.
The roof of your commercial building protects the contents and structure of your building. Beyond that, the roofing material you select determines the amount of maintenance and repair needed and affects your building's energy costs. To protect the building and your business, you need the right roofing material, and TPO roofing may be the right answer.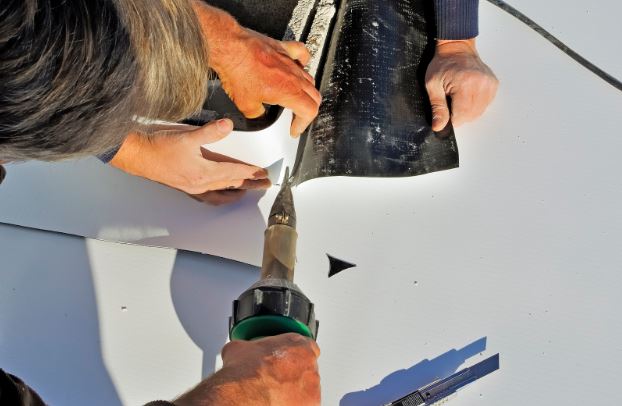 Benefits of TPO Roofing
A TPO roofing membrane has a lot of advantages. To decide if TPO roofing installation might be right for your commercial building, look at these benefits.
1. Cost-Effective Material
TPO roofing installation is often less expensive than installing similar materials like PVC. Other materials such as shingles or tiles are both impracticable and cost prohibitive.
2. Easy Installation
In most cases, TPO roofing installation can be completed a lot faster than other types of roofing installation. When the installation is faster, the labor costs are lower, and you protect your bottom line.
3. Energy-Efficient and Environmentally Friendly
TPO membranes are made from recyclable materials, reducing their carbon footprint from the start. Once installed, their light color reflects sunlight. This reduces solar absorption and by extension helps to keep AC costs low.
4. High Durability
The TPO membrane can resist tears, punctures, and water damage, keeping your repair costs low and increasing its longevity. It also stands up to the sun and does not degrade from sun exposure. The TPO membrane also resists dirt and bacteria, making it easier to clean and keep clean.
5. Strong Seams
Over time, buildings expand and contract, and that puts pressure on the seams of your roofing systems. Many traditional commercial roofs use tape systems or glued seams between the sheets of roofing material. Those seams wear down over time.
TPO roofing membranes, in contrast, use hot air welded seams. Its seams are up to three times stronger than tape and six times stronger than glued systems.
Get Your Project Started with Our TPO Roofing Installation Services
At Davidoff Roofing in London, we have been helping business owners find the best roofing material for 40 years. We strongly believe in the benefits of TPO roofing, and we would love to talk with you about how it can enhance and protect your commercial building while also keeping your costs as low as possible. 
To learn more about TPO roofing and to talk about your commercial roofing project, contact us today.