A flat roof offers commercial property owners a wide range of benefits. Many provide superior energy efficiency and rank among the least costly to maintain. These perks are contingent upon working with a construction company with reliable flat roof expertise.

At Davidoff Roofing, our experienced construction professionals leverage the most secure designs and industry-leading roofing materials. As a roofing company that enjoys a reputation for excellence, we utilize Certainteed and Soprema materials when creating and repairing a low-sloping or flat roof.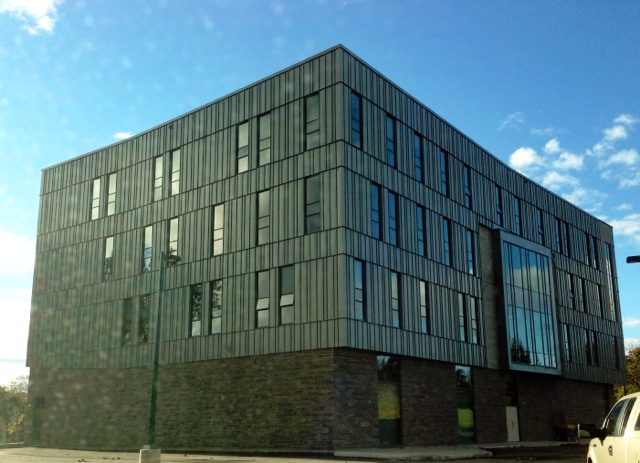 Choose the Right Flat Roofing Materials for Your Property
Selecting the best material for your low-slope or flat roof ranks among the most important decisions. The pitched roofs commonly used in single-family homes often employ overlapping asphalt shingles or metal roof materials. These products rely on gravity to funnel water and snow to gutters. But a flat roof requires a more determined surface to handle pooling water and a built-in drainage system.
Types of Flat Roof Materials
We employ three types of flat roof designs that can secure your commercial building from water intrusions.
Single-Ply Flat Roof
Considered lightweight and manageable, single ply roofs minimizes seams. It can prove invaluable when retrofitting low-slope roofs.
Modified Bitumen Flat Roof
Modified Bitumen roofs are a two-ply flat roof either installed with adhesive materials or with the use of open flame. Advanced materials make these designs increasingly secure against moisture penetrations.
Built-Up Flat Roof
Also known as BUR, Built-Up roofs are made up of alternating layers of roofing felt and waterproof materials such as tar. The final layer typically consists of gravel and crushed rocks. This design is fire retardant and affordable.
Although these and other flat roof systems remain reliable in new construction and retrofitting, longevity and cost-effectiveness call for industry-leading materials.
Benefits of Flat Roofing Systems
Property owners would be well-served to insist that a contractor uses only the most reliable materials when installing or repairing a flat roof. As Ontario residents are keenly aware, snow accumulations and standing water challenge buildings. That being said, these rank among the top benefits you can anticipate from your flat roof.
Saves Money:
A low-slope or flat roof lowers repair costs if impacted by severe weather or a penetration. They are also quicker to install, making them a cheaper option than other roof types.
Increased Versatility:
Unlike many pitched designs, a flat roof can be purposed. Some commercial property owners upgrade the square footage for open-air business use.
Less Energy:
We are all trying to do our part and protect the environment. A flat roof can reduce the energy needed for heating and cooling a space.
Easy Maintenance:
Since flat roofs are more easily accessible by roofers, that makes them easier to inspect and maintain on a more regular basis than other roof types.
The proven benefits of a flat roof are why so many commercial property owners stay with them. By working with an experienced flat roof contractor and employing advanced materials such as Certainteed and Soprema, you can expect upwards of 25 years of longevity and performance.
Get Your Project Started with Our Flat Roofing Contractors
If you own a residential or commercial building and are considering a flat roof installation, Davidoff Roofing has been serving the greater London, Ontario, community since 1983. We bring our reputation for excellence to every roof installation and repair. Contact one of our customer care professionals today for a flat roof consultation.
Frequently Asked Questions
A flat roof is a very low-sloped roof that is commonly used for commercial buildings.
How Long Do Flat Roofs Last?
A flat roof generally lasts upwards of 15-25 years. Longevity depends on workmanship, quality materials, and severe weather.
What is the Purpose of a Flat Roof?
Flat roofs were originally designed to reduce construction costs. However, other benefits such as energy efficiency and reduced repair expenses make them increasingly popular options.
Are Flat Roofs More Expensive to Insure?
The cost of insurance coverage depends on wide-reaching factors. Pitched roofs tend to incur more high-wind damage than flat roofs. By that same token, a poorly constructed flat roof opens the door to water penetrations. The best way to know is to gather quotes.
Book Your Free Estimate Today and Get Your Project Started