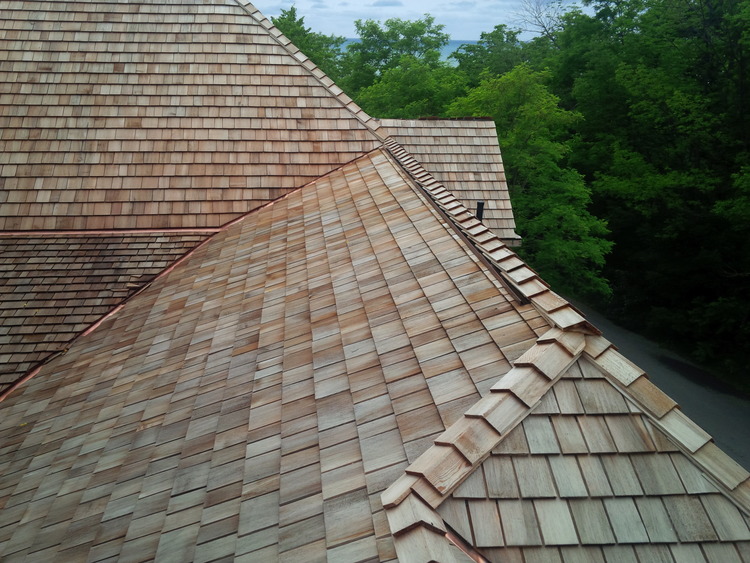 Of the multitude of different roofing materials that are available today, cedar roofing and shingles are a style that's on the rise. A cedar roof is typically comprised of wood shakes from split logs, usually derived from cedar trees or California redwood trees. There are many benefits associated with cedar roofs. For instance, they're beautiful, long-lasting with regular maintenance and resistant to inclement weather such as high winds and storms.
What is the Difference Between Cedar Shingles & Cedar Shakes?
When it comes to a cedar roof, homeowners have options. For instance, they'll have to decide between cedar shingles and cedar shakes. Cedar shingles are smooth and uniform in their pattern, presenting more of a clean look. Cedar shakes, conversely, take on a more rugged appearance and have a bit more character. Cedar shingles are sawed, and shakes are split.
Are Cedar Shingles Right for Your Roof?
If you're serious about improving the exterior aesthetics of your home, then a cedar roof is certainly a good option. Cedar roofs are more than just beautiful looking, however. They're strong, insulating and long-lasting. But in order to stay looking great, cedar roofs require a bit more maintenance than other types of roofs. In order to continue to make your home stand out on its block and to properly safeguard your home, cedar roofs need to be kept clean and protective treatments are required on occasion. At Davidoff Roofing, we can handle initial installation and perform this necessary maintenance as well.
Get Your Project Started with Our Cedar Roofing Experts
If you're looking to have a cedar roof installed on your home, it's important that it's done correctly in order to maximize your return on this investment. That's where Davidoff Roofing enters the picture. As a trusted, reputable roofing contractor, we'll make sure that your cedar roof is installed seamlessly. We're also happy to set up a recurring maintenance plan so you can ensure it continues to perform well and look great. For more information, contact us as Davidoff Roofing today.
Frequently Asked Questions Regarding Cedar Roofs
How long do cedar shingles last?
When cedar shingles are properly installed and regular maintenance is performed on the roof, you should expect to get anywhere from 30 to 50 years out of the roof before replacement is necessary.
Are cedar shingles expensive?
Cedar shingles are on average 2-3 times more expensive than asphalt shingles but offer many benefits such as a stunning appearance that you may not get from your standard asphalt roof.
What do you put under cedar shingles?
Asphalt felt underlayment is commonly installed beneath cedar roofing.